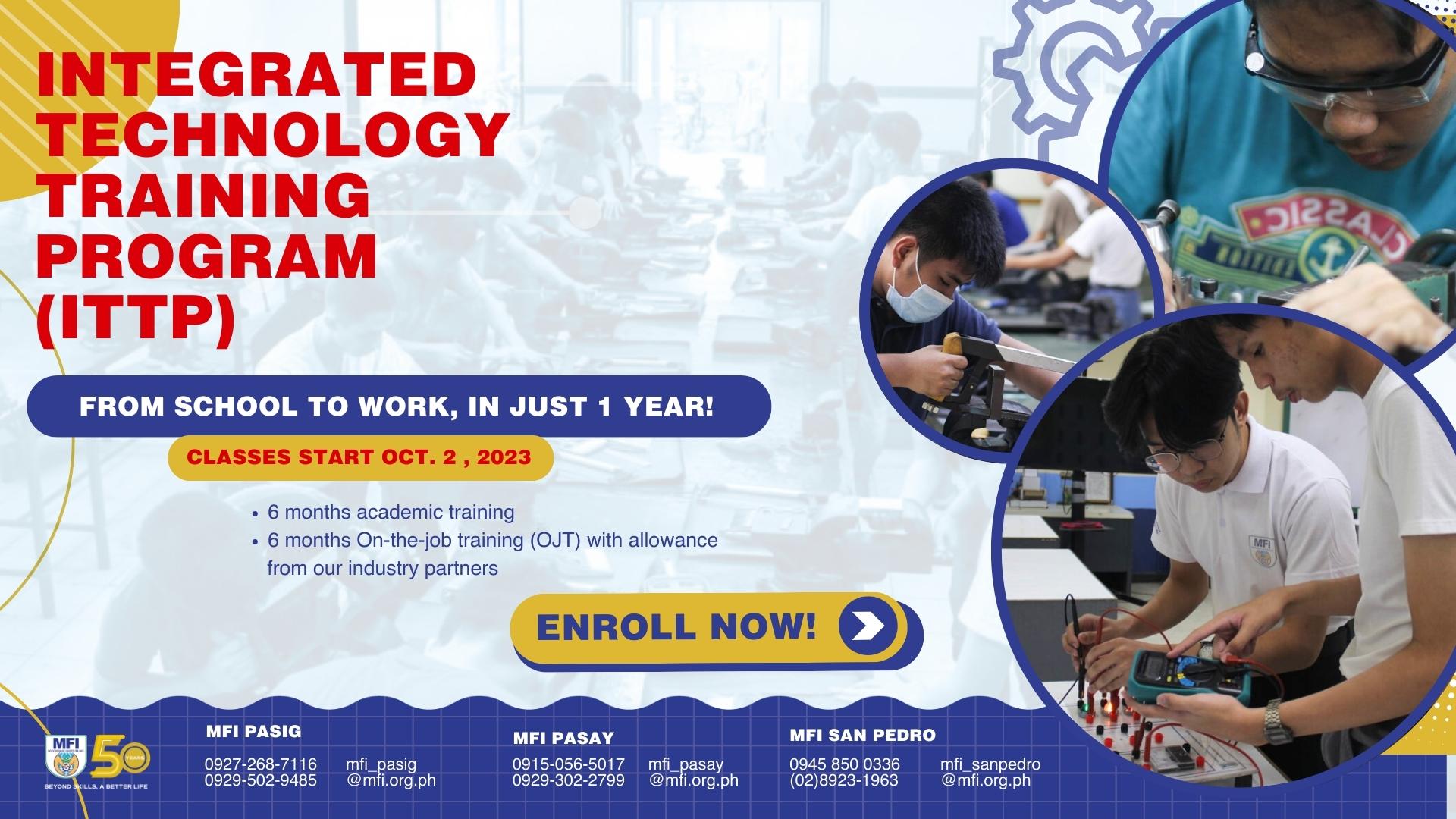 ITTP Program
Want to become a technical professional in just one year? Look no further! Our Integrated Technology training program offers a unique blend of theoretical knowledge and hands-on experience to propel you toward a successful career. And the best part is, if you are having a problem with your budget, you can avail of our Study Now, Pay Later (SNPL).
Enroll now at MFI Polytechnic Institute Inc.'s ITTP program! Offering in our Pasig, Pasay and San Pedro Campuses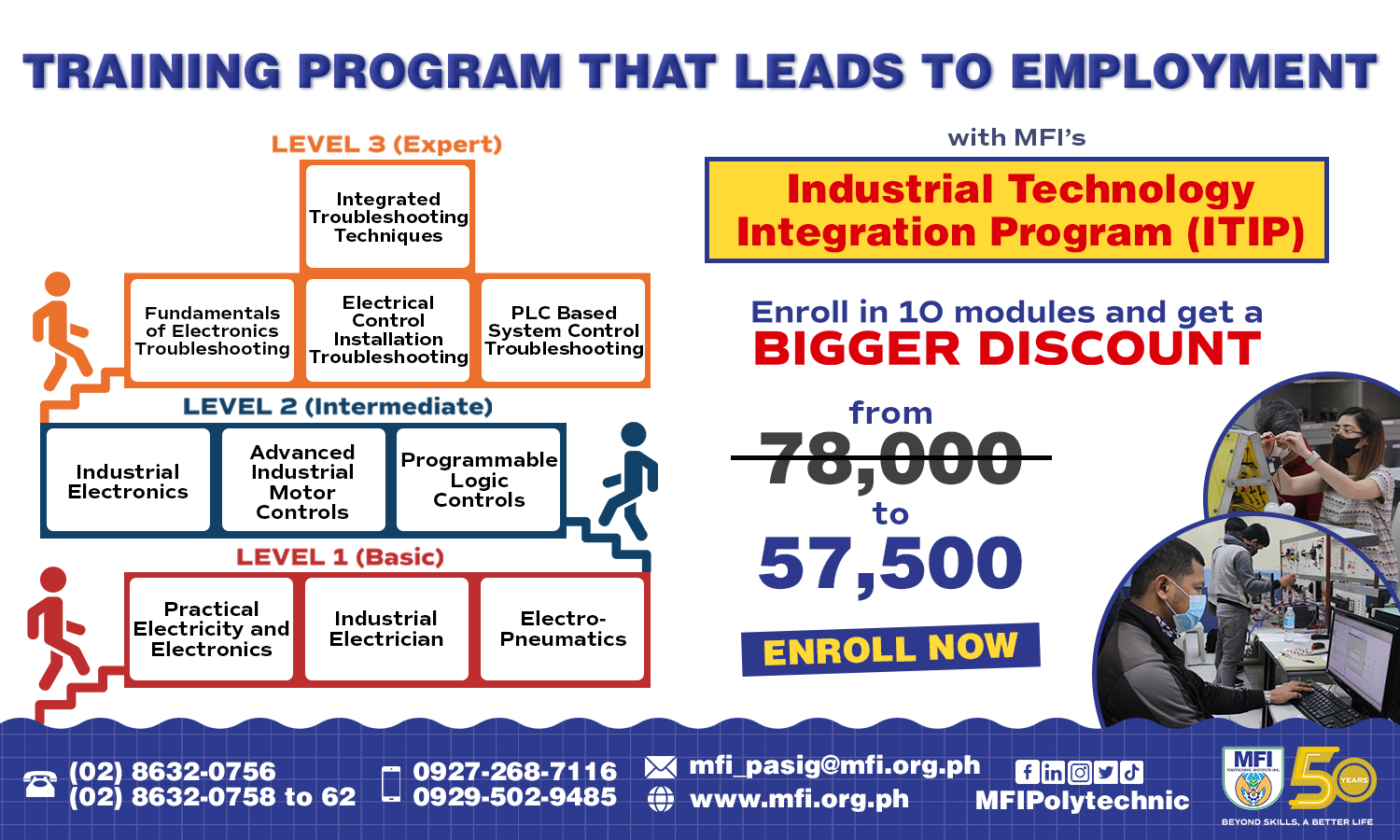 This 10 training modules will enable participants to be a highly employable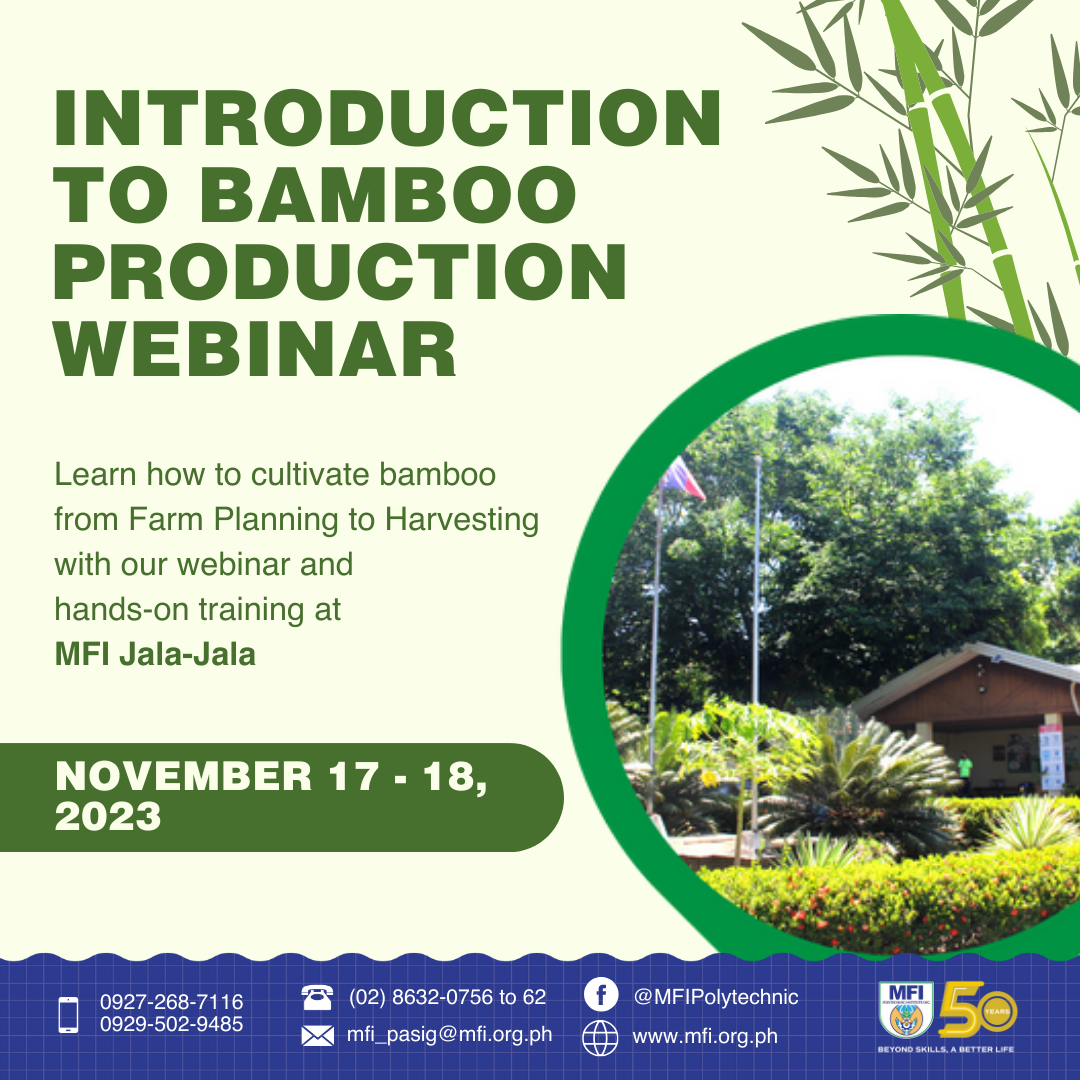 INTRODUCTION TO BAMBOO PRODUCTION WEBINAR
"Attention all green-minded entrepreneurs! Looking for a profitable yet sustainable business idea? Look no further! Our upcoming webinar on Basic Tropical Bamboo Farming is your go-to source for comprehensive knowledge and insights. Ensure that future bamboo farm owners and agri-preneurs learn and are able to implement bamboo management techniques in their own farms. Future bamboo farm owners can prepare a simple business plan for a bamboo farm and train their farm workers for farm sustainability. Sign up now and unleash your entrepreneurial spirit!"
For further information or a query, you may contact 0916-394-8314, (02) 8632-0756 local 141, or (02) 8710-2901. You may also send an email to mfi_jalajala@mfi.org.ph.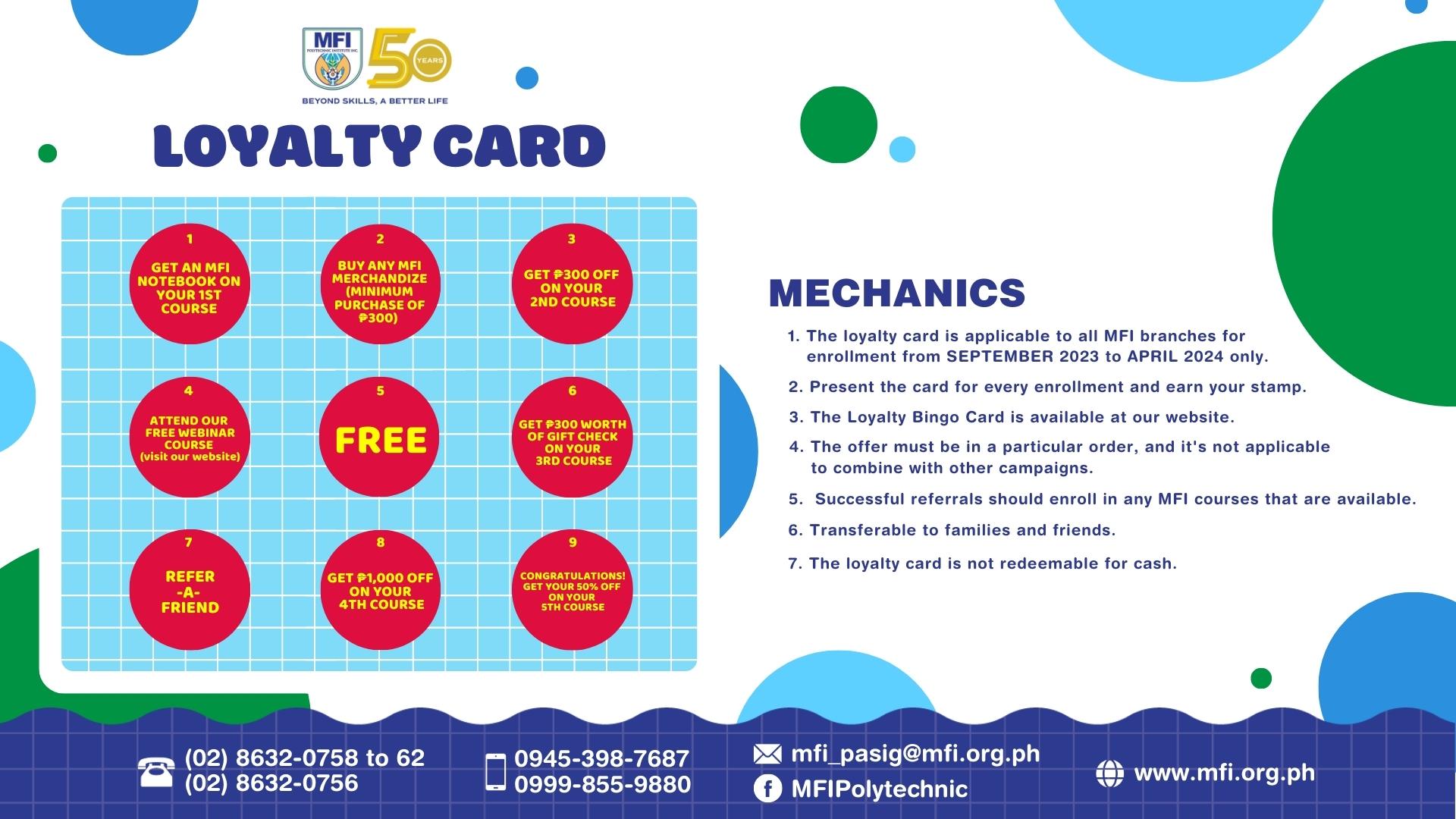 "In celebration of the 50
th Founding Anniversary of MFI, we are pleased to provide our Loyalty Bingo Cards, to our valued clients"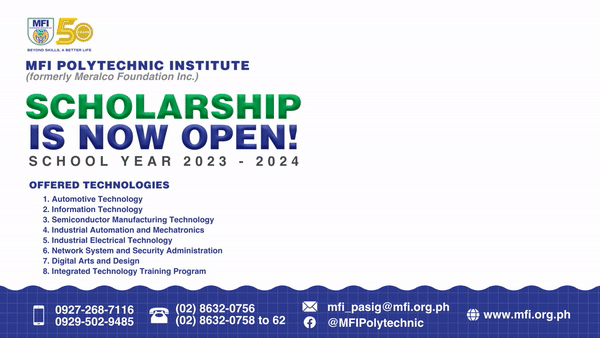 Free Tuition Fees for 2 year DTS Qualified Applicants! Here is your chance to achieve your dream of a better future. It's time to create that big impact in  your life and let MFI be a part of that goal. The application for Dual Traning System SCHOLARSHIP is NOW ONGOING! Limited slots only.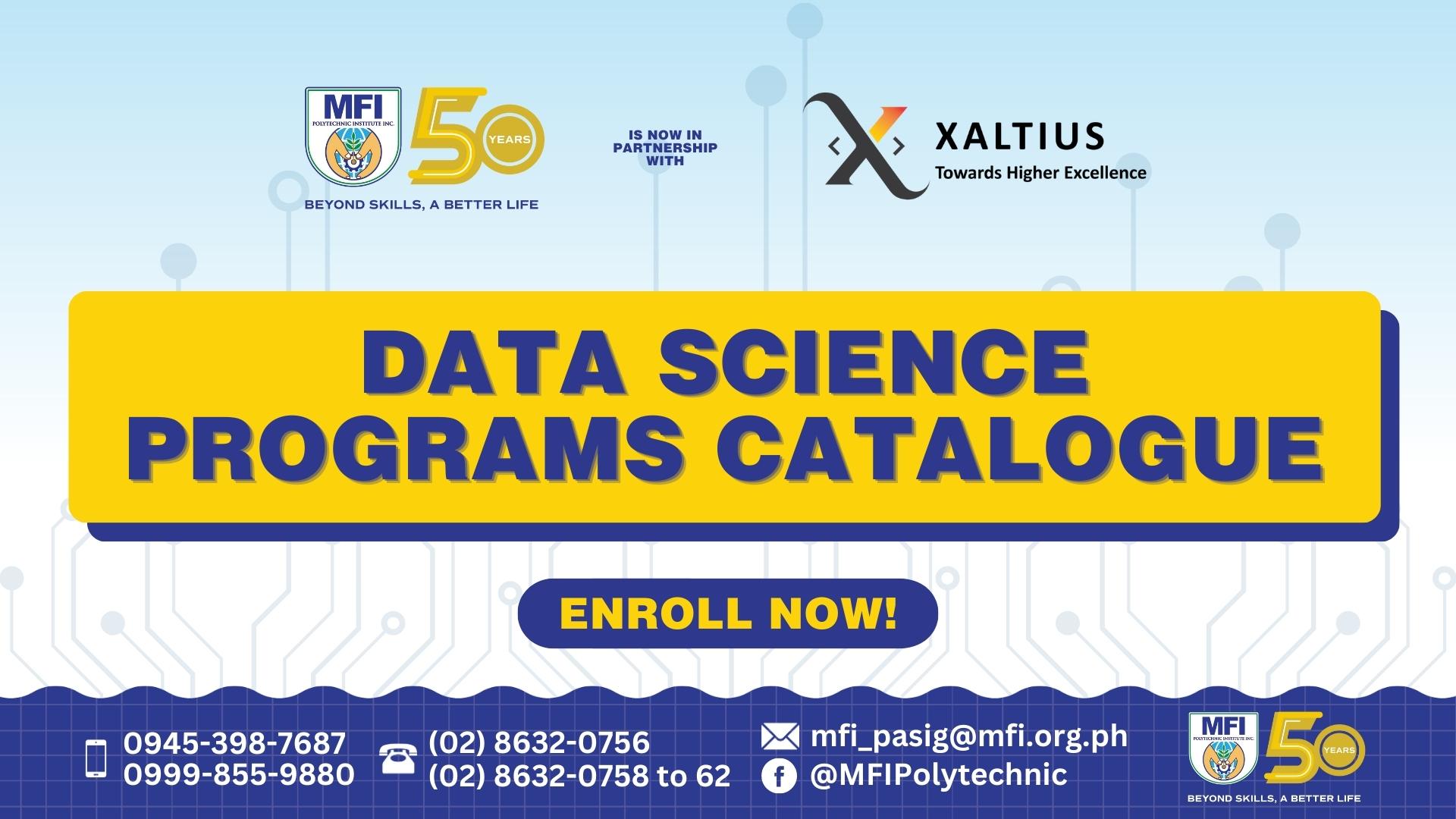 Seeking to broaden your knowledge, career development, and pursue IT education?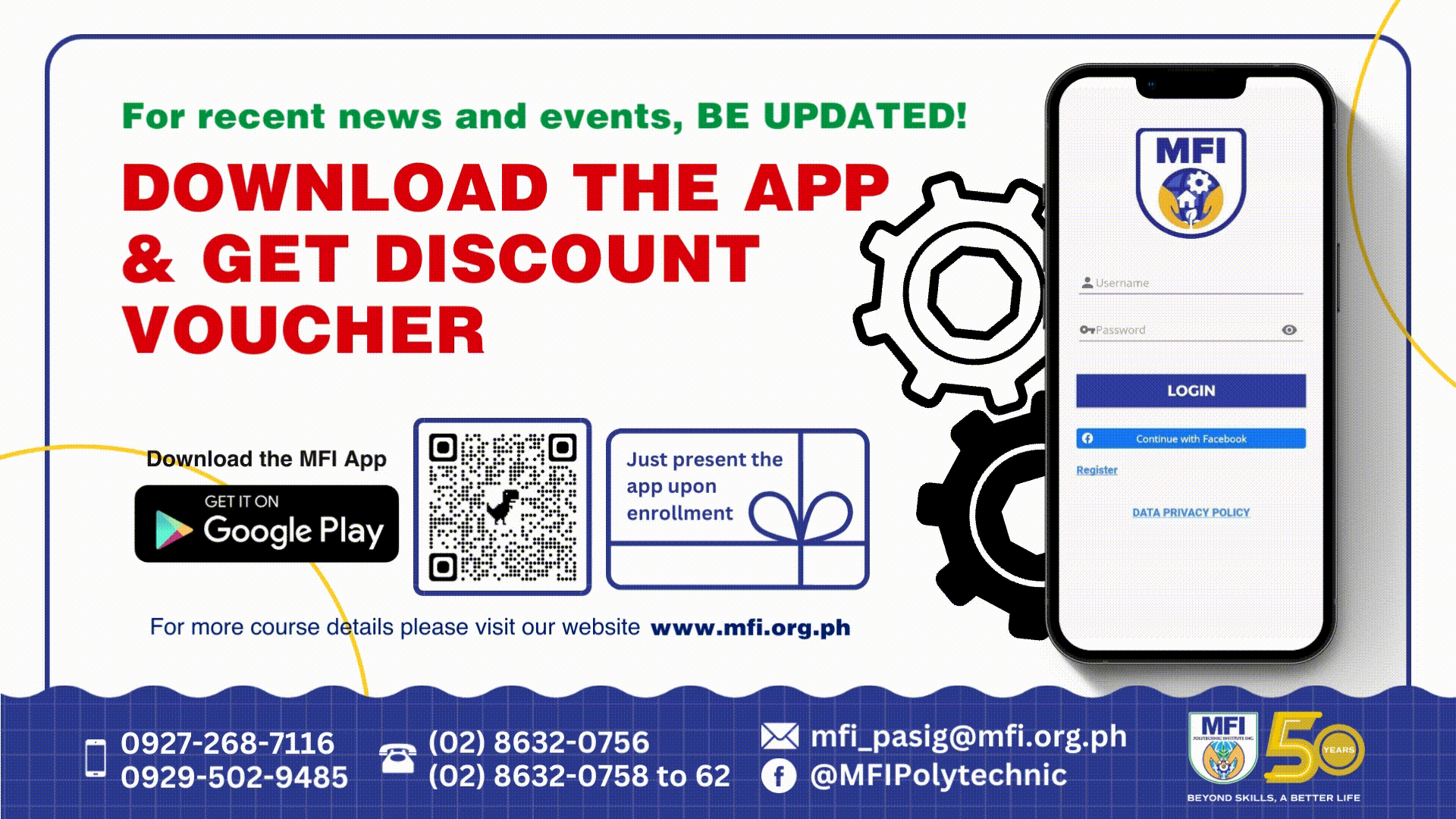 For recent news and events, you may now download the MFI App and get discount voucher. Available at Google Play.
Just present the app upon enrollment to avail the promo!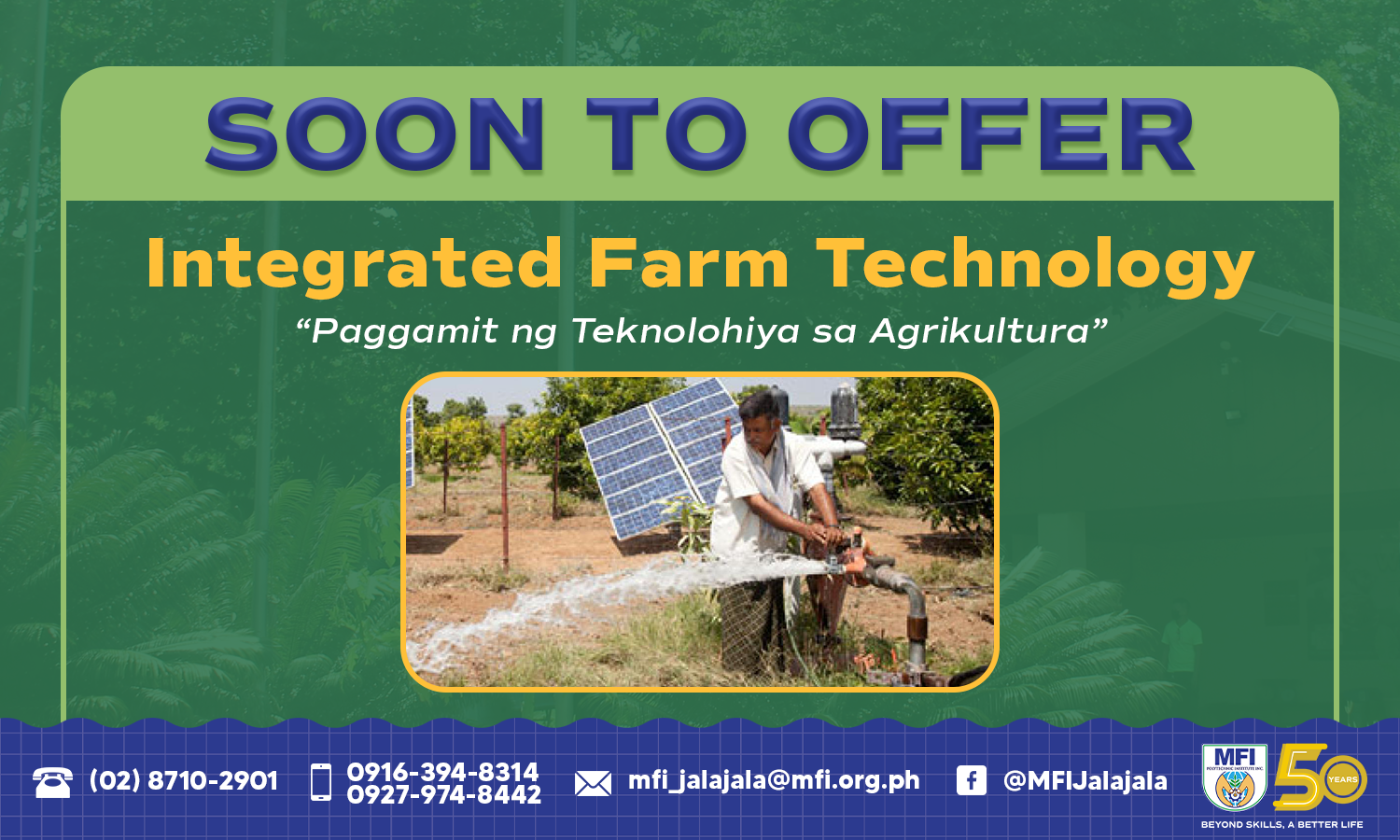 Paggamit ng Teknolohiya sa Agrikultura
Integrated Farm Technology soon to offer at MFI Jala-Jala Campus!
Dual Training System Program – 2year course
For more inquiries:
Mobile Numbers: 0916-394-8314 / 0927-974-8442
Email: mfi_jalajala@mfi.org.ph
MFI Study Now Pay Later Plan
MFI Study Now Pay Later Plan enables Senior High School graduates to receive
funding for their tuition to continue their studies and to drive them to pursue
opportunities.

From being an investment holding company in 1973, MFI evolved into its true purpose as a fully operating educational institution that provides technical skills education and training to Filipinos, the industry, and to those in need.
MFI implements its purpose through its current programs: Senior High School, Short Courses, Customized Training, Dual Training System, and Skills Assessment Services.
Apply for Scholarships
Committed to enabling individuals to realize their career potentials, MFI, in partnership with different industries and organizations, offers scholarships to qualified and deserving applicants for Senior High School, Dual Training System (DTS), Industrial Technician Program (ITP), and other Short Courses.
Senior High School
Enrolling in MFI's Senior High School program will help you acquire essential skills in Automotive or Computer Programming to become competent and ready to either apply for work, establish your own business, or enroll for a bachelor's degree after graduation.
Short Courses
Upgrade your professional and technical skills and become more competitive, competent, and confident by enrolling in MFI's short courses.
Dual Training System
Become one of our competent and work-ready students under the Dual Training System (DTS) by acquiring theories and hands-on technical experience in Automotive, Semiconductor, Manufacturing, or Information Technology.
Customized Training
MFI designs and develops training specially made for your industry/organization, strengthening employees' competencies and skills.
Employee Training
MFI designs and develops training specially made to strengthen your employees' competencies and skills.